Kathmandu Durbar Square Ultimate Travel Guide
Kathmandu Durbar Square, also known as "Basantapur Durbar Square", "Hanuman Dhoka Durbar Square", or "Durbar Square", is a major tourist destination in Kathmandu Valley and is located within walking distance of Thamel. The Kathmandu Durbar Square housed the palaces of the city's rulers, the Malla and Shah monarchs.
How to Get in Kathmandu Durbar Square?
By Walk: If you are staying in the Thamel area, Kathmandu durbar square is only about 15-20 minutes of walking distance from Thamel. Expect some crowded and narrow walkways.
By Taxi: If you are staying far from the Thamel area, book a taxi and tell drivers to take off at the new road gate, and walk to the Durbar Square area which is less than 1KM west from the new road.
Entrance Fee for the Kathmandu Durbar Square
There is an entrance fee to explore the Kathmandu Durbar Square area, You will see a ticket counter near kumari ghar in the Durbar Square area. The ticket counter is available at all major entrance points into durbar square. The entrance fee is 150NPR for SAARC nationals and 1000NPR for other nationals. The ticket is valid for one day only, You can convert this ticket to a long-stay ticket if you frequently pass through the durbar square area.
List of must-see sites in the Kathmandu Durbar Square area
Basantapur Square:
Basantapur square is occupied by a big open market. There is a great collection of antiques, jewelry, and handicraft items there.
The Kumari Ghar:
It is one of Kathmandu's most famous buildings and is most likely the major reason tourists visit Durbar Square.
The Kumari Ghar is the residence of the Living Goddess Kumari and is believed the incarnation of Goddess Taleju.
Trailokya Mohan Temple:
Trailokya Mohan Temple was built in 1680 and dedicated to Vishnu/Narayan. Trailokya Mohan Temple is best accessed from the other side of Kumari Ghar.
Garuda:
Gaddi Baithak: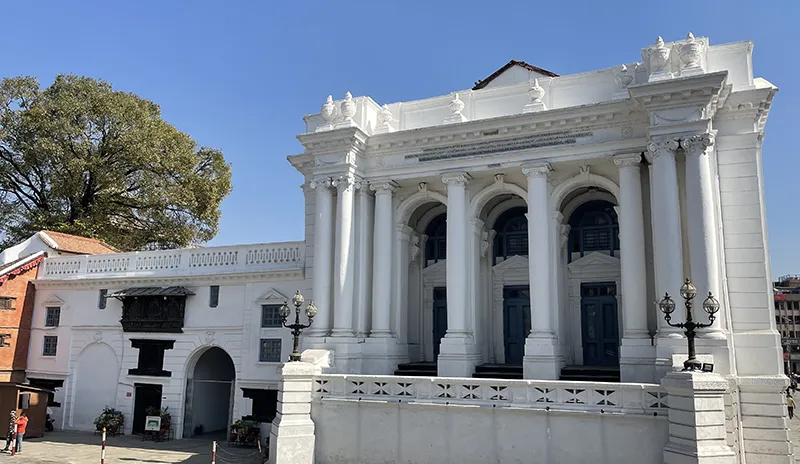 Gaddi Baithak is a white neoclassical edifice designed by Rana Prime Minister Chandra Shamsher in 1908.
Kasthamandap:
Kasthamandap is a public wood pavilion and pilgrim shelter with a shrine of Gorakshanath inside. It was built with the wood of a single sal tree around the 12th century. The city of Kathmandu is named after this building.
Kaal Bhairav:
The large sculpture of Kaal Bhairav, the fierce form of Lord Shiva, was sculpted during the 5th or 6th century and later rediscovered in the 17th century.
Jagannath Temple:
One of the oldest structures in Durbar Square with strange, erotic carvings situated on the roof struts with 3 doors that appear to give you access to the temple with only one that opens.
Taleju Temple:
Hanuman Dhoka:
Hanuman Dhoka Palace Museum:
Kathmandu's royal palace, known as the Hanuman Dhoka Durbar, was originally founded during the Licchavi period (4th to 8th centuries AD), but the palace complex was expanded considerably by King Pratap Malla in the 17th century.
The entrance gate (dhoka) is made out of gold gilded copper sheets which were commissioned by Prime Minister Bhimsen Thapa to replace the short wooden gate, which you can see to your left once you enter the golden gate.
NASAL CHOWK
The first statue you will notice to your left is the black stone icon of Narasimha.
Beyond the image of Narasimha, there is an audience chamber of the Malla Kings known as Sisa Baithak.
Next, we see palanquins displayed inside the glass panel. Royal Palanquin is a large gold gilded silver palanquin with two panels decorated with a lattice window design. It was used during the wedding ceremony of the Late Queen Aishwarya Shah and Princess Shruti Shah. It has also been used to carry young royalties during their rice feeding ceremony.
The next Myana is shaped in the Mughal style which was used to carry the dead body of the Late King Tribhuvan Shah and Late Queen Aishwarya to perform their last rites.
At Nasalchowk Dabali nine Kings of the Shah dynasty had their coronations from 1775 to 1975 AD starting from King Pratap Singh Shah to King Birendra. It is the largest courtyard out of ten existing courtyards of the Palace.
Mohan Chowk
To the north of Nasal chowk lies Mohan Chowk built in 1649 AD by King Pratap Malla as their residential area. When the hill states rulers visited Kathmandu, they were entertained as guests in this courtyard. At the center, lies sundhara the golden water spout sculptured with birds and animals as if crowded together for a splash of water. It is said that King Rajendra was imprisoned in this part of Hanumandhoka after the Kot massacre, in 1847 AD.
Sundar Chowk
Beyond this chowk to the north lies Sundar chowk which has a private bath for the queens of the Malla dynasty. There lies a beautiful stone sculpture of Kaliyadaman. Similar to Mohan chowk, it also has a golden water spout that is used to fill the water tank- Jaldroni outside the wall of Hanumandhoka palace. Malla rulers collect sacred water from this water spout to perform rituals for their deities.
Currently, both these chowks (Mohan Chowk and Sundar Chowk)are prohibited to the public due to undergoing renovation after the 2015 earthquake.
LOHAN CHOWK
At the southwest corner of Nasal chowk lies an exit that passes into Lohan chowk, after the large single-stone block you can see in the middle. This courtyard was formerly ringed by four red-colored towers constructed by King Prithvi Narayan Shah, representing the four ancient cities of the valley. The upper parts of the Basantapur (Kathmandu) Tower and Bhaktapur Tower (Lakshmi Bilas), but the Kirtipur Tower and Patan (Lalitpur) Tower (known more evocatively as the Bilas Mandir, or House of Pleasure) are still standing. The nine-storey Durbar is also known as Vasantapur Kailash (Vasantapur tower) along with Vilas Mandir. This is the tallest pagoda-styled residential palace in Nepal.
Mul Chowk
Mul chowk is a restricted courtyard located east of Nasal chowk and was erected in 1564AD beside Taleju temple. It is available to the public once a year during Dashain in Navami.
NAG POKHARI
To the east side of Dashain ghar, you will see a pond with the Naga (serpent hood) on top of the tall wooden column. It is said to have been taken by King Pratap Malla from Tagwo pukhu (large pond) in Bhaktapur and placed here in 1663 AD. Around this pond are beautiful stone sculptures of elephants, Parvati and Chatrachandreshwor icons, and a shiva temple.
BHANDARKHAL
Bhandarkhal was once a royal garden east of Hanumandhoka palace which was later converted to New Road (Juddha Sadak) by Prime Minister Juddha Shamsher Rana after the 1934 AD earthquake.
Hanuman Dhoka Museum Art Gallery
Next to NAG POKHARI, there is the Hanuman Dhoka Museum art Gallery, No photography is allowed.
Asan, Kathmandu's local market
The iconic local market 'Asan' is definitely the best place to buy souvenirs and handicrafts, but also authentic local food, spices, fabrics, jewelry and so much more.
Kathmandu Durbar Square is one of three Durbar Squares (Patan Durbar Square and Bhaktapur Durbar Square) in Nepal's Kathmandu Valley. Since 1979, Kathmandu Durbar Square has been designated as a UNESCO World Heritage Site.
Did you Know Monkey Temple is just around 3KM away from the Kathmandu Durbar Square area?
Explore another UNESCO World Heritage site Swayambhunath(Monkey Temple).